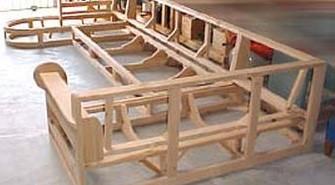 Visit our Showroom
Cascade Upholstery © , a custom upholstered furniture manufacturing & upholstery business established in 1972. Cascade is the premier upholstery business serving Seattle and East-side communities for over 40 years. Second generation craftsmen build high-quality custom upholstered furniture for residential & commercial clients.

Cascade builds custom upholstered furniture and performs top-of-the-line upholstery work for residential and commercial upholstery clients in the Puget Sound region. Cascade's artisans have over 100 years of combined experience in crafting upholstered furniture and bring second generation skill to their products. Visit the showroom at 1407 132nd Ave NE, Suite 6, Bellevue to see the constantly updated and new textile library. Ask for a tour of the workshop as we revamp its efficiency and through-put capacity. Exciting things are happening at Cascade in 2017!
Cascade Upholstery recently lost a cherished friend and simply the best seamstress for our industry recently. From the Bill and Melinda Gates Foundation to many high visibility clients her work and friendship will always be remembered. Furthermore, for close to a year she handed her skills down to our current and unbelievable new talent. Make no mistake. No one is better in the state and effortlessly working with our designers, clients, and business owners make no mistake. There is no other organization that rivals ours.